A Smarter Way to do Business Law in Kansas City
We are a Kansas City business law firm for entrepreneurs, executives and companies. We are a business goals driven firm, which means that we focus on your end results and not legal minutiae. We work with businesses large and small, from the beginning stages through each major business hurdle. We create a tailored plan to suit your business's goals and don't try to just provide a cookie-cutter approach. Instead, we listen to your business needs, diligently work to understand your business, and create a plan that meets those needs.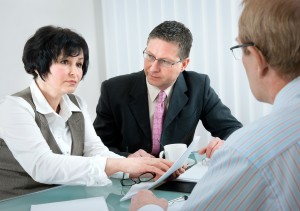 Kansas City Business Attorneys for Your Key Moments and Milestones
We are ready, willing, and able to assist your Kansas City business as your needs change over time. We have depth in contract law, information technology and general corporate expertise. Our attorneys have served as general counsel and truly do work to understand your business. We bring this depth of experience to bear on your matters. You get very experienced counsel at small firm rates.
Kansas City Small Business Lawyers
For example, do you want to:
Create a partnership, limited liability company or corporation in Kansas City?
Buy or sell a franchise or business?
Buy, sell, or lease real estate?
Distribute or manufacture products or goods?
Acquire or develop intellectual property, such as a trade secret, copyright, trademark, patent, database, or a domain name?
Engage a IT consultant or license software?
Negotiate a confidentiality, non-solicit, shareholder, employment, non-compete, outsourcing, independent contractor, or other important contract?
Implement a data security, privacy, or other program or policy?
Deal with a lawsuit, government enforcement proceeding, or other claim?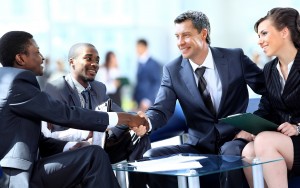 Business Attorney Kansas City – Our Process
We help you determine the first course of action by reviewing the facts and coming up with an immediate action plan. Then, we help you executed that plan. Finally, we work with you to create an overall system to help you eliminate and mitigate risks in the future. We want to be your trusted adviser for the long term.
Business Attorney Cost – Small Firm Rates with Big Firm Experience
The Business Law Group is a small firm. Even though we're small, we bring sophisticated business law expertise to the table. We do it with a personal touch through our cost-effective approach.
We have worked with businesses at all stages of their life cycle and in most every sector. We help large, international corporations as well as sole proprietors just getting started. Complex deals and business come in all sizes.
Accordingly, we offer top-notch representation with an eye on value – by keeping our overhead low and passing those savings on to you.
Kansas City Business Law Firms – Call us Today
We would love to speak with you about your business. Call us today at (913) 225-8215. We will set up an appointment to discuss your business needs – both now and those in the future. We are glad that you chose us to partner with in helping you achieve your business goals.
business Law
business attorney - a business attorney is a lawyer that focuses on business, or corporate law. The Business Law Group is a focused firm like this. We serve many business clients and use our experience and resources for those client.
contract law - contract law is the business of dealing with agreements of all shapes and sizes. As you can guess, contracts can be simple, even a couple of paragraphs to being extremely complex, such as several hundred pages. Our business lawyers have worked on deals that range from a few thousand dollars to several hundred million. We work in Overland Park KS and Leawood, Olathe, Lenexa and Shawnee as well.
business lawyer - a business lawyer is the same thing as a business attorney.
corporate law - corporate law is more than just contract law. Instead, it focuses on the entire business and not just a slice. Our corporate attorneys do just that. We have worked both for some of the largest law firms in the world as well as general counsel to many companies.
business lawyers - we are not a real estate attorney firm, but instead we are a business firm. You can find a good real estate lawyer if you want, but call us for a great small business lawyer.
commercial attorney - a commercial attorney is really the same things as a corporate law attorney.
commercial law - commercial law focuses on the business side of law. What you do as a commercial law attorney is to go through all aspects of a business and apply experience and knowledge to make sure that you use the proper tools to not just negotiate a great deal, but one that fits the overall needs of the business.
contract lawyer - a contract lawyer is typically great at negotiating the terms of an underlying agreement. For example, a good contract attorney will anticipate the needs of the client and add clauses to match those needs.
corporate attorney - a corporate attorney is one that works for a company and focuses their legal skills on the needs of the business.
small business attorney - many small businesses are not sure as to what legal services to get. Some settle on large law firms, which can be very pricey. Some small businesses use a general law firm, which does not focus on small business needs. It is good to get a firm that understands the needs of a small business. The best small business attorney around is one that will help you get the right legal answer without overwhelming the business with unnecessary legal costs.
corporate lawyers - corporate lawyers are people who want to be known as a business law attorney and not business litigation. They want to be great contract lawyers.
corporate law firms - we are the region's best corporate law firm. We know business and how to help our clients make the most of their business. We've helped business clients throughout the Kansas City area, including Overland Park KS, Lenexa, Olathe, and Leawood.
business contract - a good business contract will be one that is drawn up the your own company lawyer. You don't want the other side to draft your contracts as those are one-sided and tilted in their favor. Instead, a good business contract helps you mitigate the risks with your own business.
corporate law firm - a good law firm will focus on an area. We are the region's best corporate law firm because we focus on business law. As the region's best business law firm, we continually assess ourselves and continue to improve our skills in the lawyer business
small business law - as we've mentioned before, small business law is not the same as big business law. As a small business owner, you need to focus on core business principles. Who cares if the risk goes down by 2-3% if the cost makes cash flow impossible? A great corporate law attorney will make sure that they are the lawyer for business, and not a high-priced corporate law expert.
LLC lawyer - we certainly understand the ins and outs of corporate law as well as how it differs for limited liability companies throughout Kansas and Missouri.
business law lawyer - a good lawyer will understand the business and business law. The best business law lawyers understand the goals of the business and use that understanding to provide good counsel to move the businesses interests forward. A good business law lawyer will only draft a great agreement while a great attorney will make sure that the risks are mitigated and the contract fully meets the business needs.
LLC attorney - A limited liability company is one that has multiple owners and can be taxed either as a partnership (which is normal) or as a corporation. A good LLC attorney understands the difference and is able to use the structure to shield personal liability from the owners of the company.
lawyers in business - lawyers in business are those attorneys that understand the values that drive the needs of the business and the owners. Lawyers in business law are strong in that knowledge and focus their energies on the end goals - reducing risk and increasing high value added projects while putting minimal time in matters that have low risk.
company attorney - your company attorney will be on that helps out your company through all of their legal processes. Many company attorneys are those that handle an entire range of issues, from contracts, to labor relations to civil litigation. Lawyers can do all of these things, although most great company attorneys are strong in certain areas and get expertise in other areas when needed.
lawyer for small business - a lawyer for small business is one that is able to focus on the important issues while keeping costs low. A lawyer for small business does not have the luxury of having a large client that can afford to mitigate all risk areas. Instead, the business needs are focused as one of the biggest risks is cost.
business contract lawyer - a good business contract lawyer is one that understands all of the terms and conditions of the contract and is able to argue persuasively for those issues that are crucial to the business while keeping the other side from overruling the needs of the business.
company lawyers - company lawyers are those that represent a specific business or company. The business lawyer will make sure that they have defined exactly what it is that they do for the company.
small business law firm - the Business Law Group is the best small business law firm in metropolitan Kansas City, including clients in Overland Park, KS, Olathe, Lenexa and Leawood.